Recruitment marketing is like running a race for talent. Planning your strategy positions you at the starting gate, executing your plan sends you off down the track alongside your competitors, and measuring the results of your efforts helps you clock your time so you can fine-tune and improve your performance. The prize in the winner's circle is finding and hiring the candidates who are ideally suited to your role and culture.
Using many of the same techniques as traditional marketing, recruitment marketing can help you reach candidates in the awareness, consideration, and interest stages of talent attraction. The ultimate goal is to see a desirable candidate hit the submit button on your application and become a valued member of your team for the long term.
But first, you need to understand how candidates decide to apply for a specific role in the first place.
The Funnel: How Marketing Intersects With Talent Attraction
Recruitment marketing uses many of the same strategies as traditional marketing, and it follows a similar path. Marketing begins by casting a broad net with awareness campaigns and narrows down through the consideration stage and finally the interest or decision stage. At each stage, the target audience becomes smaller and content focuses on answering the specific questions people in that stage might have.
Recruitment marketing follows a similar funnel-shaped process of creating awareness, providing information for consideration, and prompting candidates to take action. Think of recruitment marketing as the pre-game show before recruitment starts in earnest. The goal of recruitment marketing is to secure an application, while the goal of recruiting is to secure the hire. When structured and executed effectively, recruitment marketing should segue into the recruiting process, as demonstrated in the funnel graphic below.
Recruitment Marketing vs. Recruiting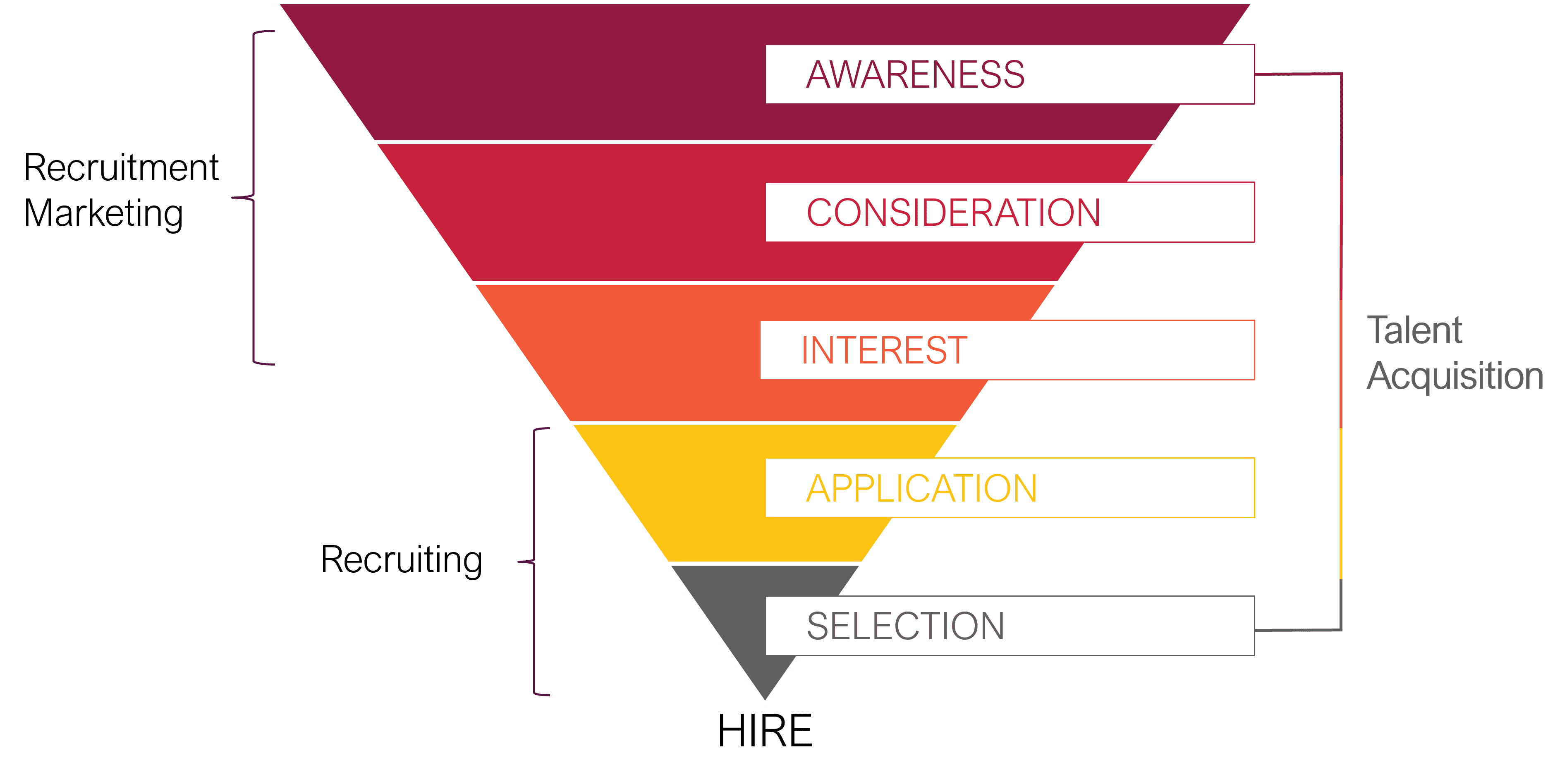 These broad stages can be broken down into more specific actions, but they are all part of the talent acquisition process, as shown in the graphic below.
For example, the recruitment marketing stage will include employer brand awareness for passive candidates, direct response advertising, retargeting, and direct sourcing leading up to the application. After the candidate has applied, the recruiting process will kick in with screenings, interviews, offers, and the eventual hire.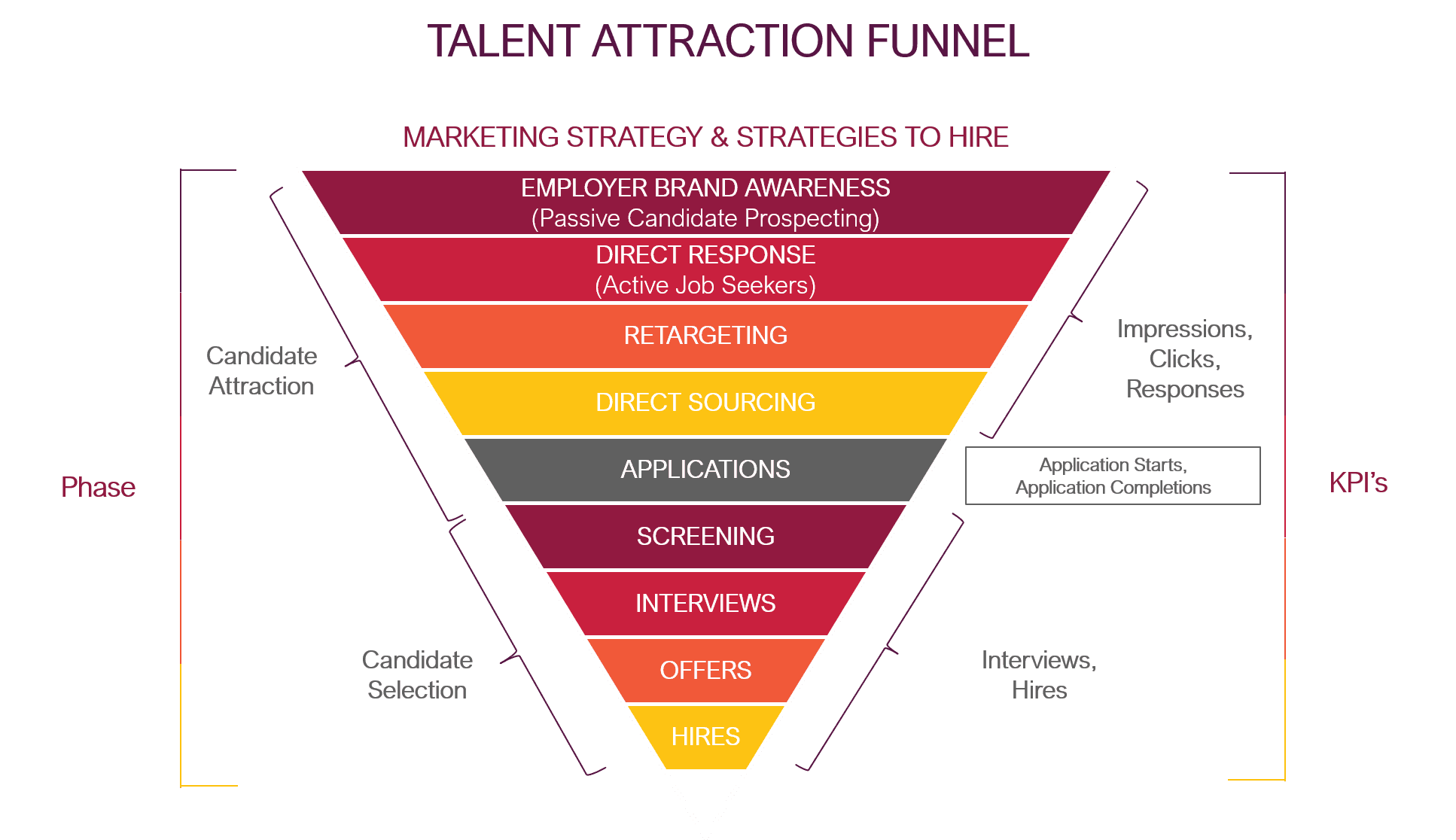 You can see how each stage progressively narrows down the field of candidates and leads into the next stage.
Why Job Postings Aren't Enough
But why put in all that effort? Why not just post your job on your favorite job boards and social media sites?
The reason is that a candidate's path to your company is not as straightforward as it once was. A 2018 CareerBuilder survey found that 60% of employers have experienced longer time-to-fill over the past year due to a fiercely competitive hiring landscape. Candidates expect employers to be proactive and personal, and 31% expect personalized messages from recruiters. Three out of four candidates want to know what it's like to work for a company before they apply, and half will check you out on your website and on social media first.

The bottom line is that candidates are taking charge of their own job seeking experience. If employers don't meet their expectations, they can kiss those applications goodbye.
Recruitment marketing gives you the edge on attracting the best candidates, because it changes the recruiting equation. By stepping into the recruiting experience with personalized outreach, target audiences, and carefully crafted messaging, you can reach the best candidates at every stage of the job search.